New Course: HSK 1-4 IN 90 DAYS
Click HERE for more info about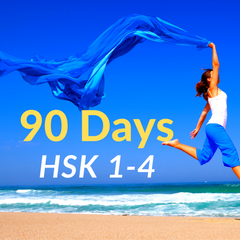 Hi everyone, it's your girl Sukie.
I'm so excited to tell you that our course HSK 1-4 IN 90 Days is officially here.
OMG we have received a lot of amazing feedback from our HSK 1-3 clients and we want to keep on the good work and expand it to cover HSK 4, which is a whole new level.
And after finishing HSK 1-4, you will reach the intermediate level of Chinese study which is amazing because that means you'll be able to confidently and fluently speak with local Chinese. That's definitely a milestone worth celebrating.
In this course, you'll start with HSK 1-3 intensive lessons first. And in each lesson, you'll learn phrases, grammar and sentences that we, as local Chinese, use everyday. You'll find notes for each lesson, with pinyin, translations and Chinese characters for those phrases, grammar and sentences but we encourage you to take your own notes because that will help you remember better. You'll have a little test after each lesson. This is a great way to test if you have absorbed all the knowledge from this lesson and it's also an easy way for you to review what you have learnt.
After finishing HSK 1-3, you can move on to HSK 4. You should have a decent amount of vocabularies, grammar and sentences in your head by that time. So we'll do HSK 4 in an effective but hard mode.
First, we'll cover all grammar points. Grammar is like the techniques you need to build a wall. So let's get familiar with these techniques first.
Then we'll do all the vocabularies. Vocabulary is like a brick. We might as well collect as many bricks as possible before starting to build a wall.
In the end, we'll work on sentences. That's when we start building a wall, with all the grammar and vocabularies.
In order to thrive in HSK 4, make sure to study well in HSK 1-3. Foundation is important.
Although HSK 1-4 is designed for 90 days, you'll have 12 months to access your course. That's a whole year. We understand that things may come up sometimes in life, or you need to take a break. So don't worry if you need a time out. We've got you covered. And we also want you to have enough time to review each lesson as many times as possible. Review is crucial.
This is an online-video class so that means you can take classes whenever and wherever you want. And when you have questions, just ask your private tutor and we'll help you asap. Yep, we have private tutor service for this course now but this service is not always included for free. So grab your seat before late.
We designed this course under the guideline of HSK 1-4 but you may find our language more real or authentic compared with text book languages because this class is not for passing tests, which requires more of test skills. We built this course to help you learn Chinese that you can actually use in daily life. That's why our clients from HSK 1-3 often told us that they can understand so much more of what their Chinese colleagues are talking about. And i hope you can easily communicate with local Chinese too after taking this course.
So much for now. If you're interested in our HSK 1-4 IN 90 DAYS course, I'll put the link below and you can take a look. And if you want to learn writings specifically, we have this course and you can get them in combo with big discounts.  If any questions, feel free to contact us. In the meantime, come hang out with me on my instagram and youtube @SukieChinese, and I'll see you in the next one. Bye~
xoxo
Sukie